The Show at Salzburg: Es muss was Wunderbares sein ...
Fakten / Facts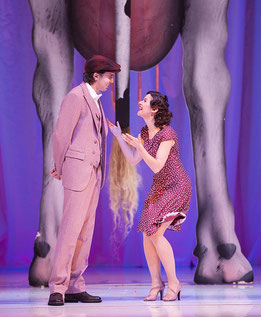 Sicherlich, Operette ist nicht jedermanns Geschmack, doch das Stück "Im weißen Rössl" weiß jeher zu überraschen. Das Rössl von 1930 zeichnet sich musikalisch durch seine ausgedehnten Tanzsequenzen aus; damalige Modetänze wie Foxtrott, Slowfox und Schimmy wechseln mit Walzer und Marsch, Spitzenballett mit Jazztanz, es ist greller und jazziger als das bis heute gespielte 1950er-Jahre-Arrangement. Das Original ist gekennzeichnet durch eine Dramaturgie der Abwechslung, überraschenden Modulationen, abrupten Stilwechseln. In seiner Urform besitzt das Weiße Rößl eine hörbare Nachbarschaft zur zwei Jahre zuvor uraufgeführten Dreigroschenoper-Musik Kurt Weills, ebenso wie eine Nähe zum gerade entstehenden Tonfilmschlager und den großen Berlin-Revuen der 1920er-Jahre.
Alle neu hinzugewonnen können nun mit allen übrigen Operettenfans gemeinsam die rekonstruierte Originalversion der Revue-Operette kennenlernen, die von Operndirektor Andreas Gergen in Salzburg rasant auf die Bühne gebracht wird. Wir dürfen gespannt sein.
Of course, operetta is not everyone's cup of tea, but the play "Im weißel Rössl" has always managed to surprise. The Rössl of 1930 is characterized musically by its extensive dance sequences; popular dances from that time like the foxtrot, slowfox and shimmy alternate with waltz and march, pointe technique with jazz dance. It's more flashy and jazzy than the arrangement from the 1950s that is still being played today. The original is characterized by a dramaturgy of variety, surprising modulations, abrupt changes of style. In its original form "Im Weißen Rössl" has an audible affinity to Kurt Weill's music for the Dreigroschenoper (The Threepenny Opera), which premiered two years earlier, as well as the just emerging German sound film songs and the big Berlin revues of the 1920s.
Now everyone, new as well as longstanding operetta fans, will be able to watch the reconstructed original version of the revue operetta, which is being brought to the stage by the opera manager Andreas Gergen in Salzburg. It's going to be interesting.
Besetzung & Termine / Cast & Performances
07.12.2014 / 19.00 Uhr
09.12.2014 / 19.30 Uhr
12.12.2014 / 19.30 Uhr
14.12.2014 / 15.00 Uhr
20.12.2014 / 17.00 Uhr
22.12.2014 / 15.00 Uhr
26.12.2014 / 19.00 Uhr
27.12.2014 / 19.00 Uhr
07.01.2015 / 19.30 Uhr
08.01.2015 / 19.30 Uhr
13.01.2015 / 19.30 Uhr
06.03.2015 / 19.30 Uhr
08.03.2015 / 19.00 Uhr
11.03.2015 / 19.30 Uhr
12.03.2015 / 19.30 Uhr
25.03.2015 / 19.30 Uhr
27.03.2015 / 19.30 Uhr
09.04.2015 / 19.30 Uhr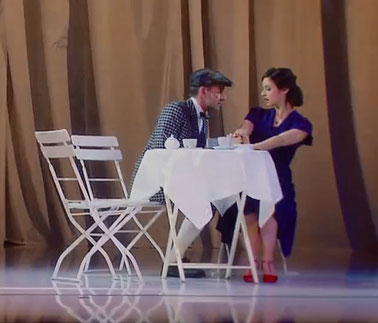 Location: Salzburger Landestheater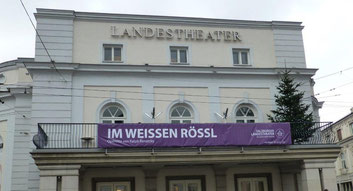 Karten, Informationen und Allgemeines zur Rössl-Spielstätte findet ihr beim Salzburger Landestheater.

Tickets and information about the Rössle venue can be found at Salzburger

Bekannte Musiknummer / Well known songs
Im weißen Rössl am Wolfgangsee (Video)
Was kann der Sigismund dafür (Video)
Im Salzkammergut, da ka'mer gut (Video)
Es muss was Wunderbares sein (Video)
Mein Liebeslied muss ein Walzer sein (Video)
Die ganze Welt ist himmelblau (Video)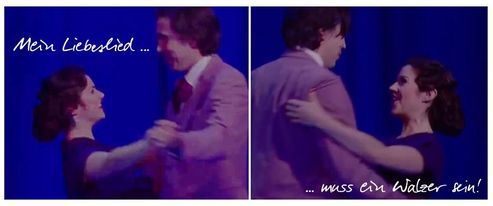 Picture Gallery: Das Salzburger Stück in Bildern