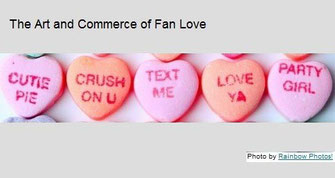 CBC Radio did a podcast about "The Art and Commerce of Fan Love" mentioning the Jemma movement. Listen to a wonderful and hilarious Jemma fan talk about her experience with Jemma while she recounts the events that took place over the last month. Also there is an interesting bit about how the broadcasters react and what possibilities there could be.
Read on ...
So Emma alluded to it in an episode before - Keiner da - aka Canada is Jemmaaddicted, too. But wait, it's quite the opposite of 'Keiner da' - (No one there) - we're all here boosting the train of fanlove to break through the laws of the usual constrictions put upon us by space, time and most importantly the broadcasts.
"The Art and Commerce of Fan Love"
 "What happens when you bring together the internet, a niche international fan base, and an obscure German soap opera? Quite possibly, the future of television. Hand aufs Herz fan Clare Lawlor and digital strategist Xiaochang Li tell us all about the world of fan subbers – people who painstakingly do their own translations and subtitles on programs they love, and then put them up on the Web on places like YouTube. It sounds harmless and probably good for publicity, right? Well, the broadcasters aren't always so keen. Copyright, dontcha know. But could it make good business sense to allow your fans to do it? (Runs 16:14)"
Follow me to this hammer interesting podcast! (Note that you have to scroll down a bit)
Thank you Clare and CBC for bringing us this really cool podcast which gives a lot of inside in the ongoings of the gap between fans and broadcasts.