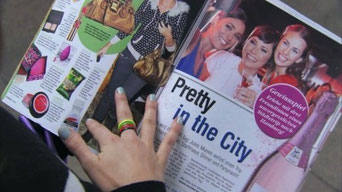 Hello everyone! It's time for yet another News Blog.
We are hitting a new era with AudL and with it there (finally) comes our own board!
Also there's a new feature we are able to offer you and soon it's time for the third DVD Box of Hahe and what did I hear about some new special recaps, and a Jemma-thesis which needs your support.
---
Oh, where to start? There's so much cool stuff.
SRT - Subs
Well, first things first. Our beloved 197 can be viewed on Sat1 again at the moment. That's pretty cool, huh? But wait, now here comes the real good news. Because of one kind soul we are having a srt file for you to use with it! And, hold on, there's still more. We don't only have a srt file for 197, but there will be srt files for the old episodes available for you, too, which you can find on the bottom of every 'Full episode' main page.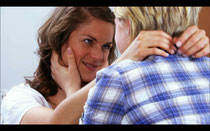 The episode is available until the 25th of October!
Pop the corks and have fun with Aphrodite, Windmachines and more!
<- *click pic*
How to use it:
- Download the Srt file and remember where you put it! ;)
- Download the Microsoft.Net Framework 4 and  the Greenfishplayer which is a subtitle player for windows, (Srt Viewer for Mac), which can play srts along a video which is playing in a different window. The specialty of it is the simpleness of synchronizing the srt file to the video.

- If you have problems to get it to work you can follow the instructions of jennyandemma1 here.
(Thanks J&E1 girls for finding and introducing us all to this stroke of genius :) )
Early Hahe Eps
The early Episodes will be available in German (de), English (EN) and an edited US (ENx ) version of our english translations. So for example you will go to Episode one 'here', download the srt, play the dvd on your pc and let the Greenfishplayer running above it.
For a more detailed description check out our short 'How To SRT with the DVDs Guide', where you can also find the srt files zipped up in packages.
Everyone say 'Thank you' to globe for her awesome work on the srts!
---
Jemmaclips Guide
Another cool thing we want to introduce you to is the Globemallow Guide to Jemma which gives an overview of all Jemma clips links on Sat1 with the matching transcript link, so that you don't need to navigate your way through two different websites anymore, but just need to click two links.
And again, thank you Globe for your work and dedication!
---
The Jemmainternational Board
You asked us many times about a board, and with Kasia moving to AudL now and there probably being a need for a space to talk about this and more, we decided to put one up. You can find it here in the new category 'Forum'.
Now there are a few things you must know.
1) You have to be registered to read and contribute to the board, because we want to make sure that this is a private and safe place for everyone.
2) This is a test run. If this thing turns out to be just laying around or you guys can't behave yourselves, we will take it down again, because we simply are not able to spend a lot of time in moderating it. As you can see we're already behind on some english scripts, for which we really apologize, btw.
3) For 2 not to happen, read the rules ;)
---
Scripts
(So this is what happens when two people are working on one thing for which both did not have the proper time. I think, our explanations say pretty much the same, but maybe you can get more out of the one than the other, and I know you love reading us discussing, so...I just leave this as it is Haha/Ahem:-) / Good that you're agreeing with me =P )
Lied Version:
At the moment we are pondering to stop the old episode scripts for now to be able to do the ones for the third DVD Box first, since we guess that everyone is more interested in them than the others(what Lied isn't teliing you here: We literally can't wait for Jenny to return!!! /// Oh, this doesn't go without saying? I think you might be underestimating our followers here. They should be able to catch on to that by themselves. ;) But just in case: JEEEEEEENNNNYYY!!! ). That doesn't mean that we will stop putting the old ones up altogether. It just means that we will do 73-90 first and then before the next DVD Box comes out we will go back to 20 or wherever we stopped before.
So is this in your interest? Let us know!
Ami Version:
Just on a side note, not to influence your decision or anything*cough* : That would basically mean, that we'd be taking a break from translating the older eps as of  right now, and begin translating 73 - 90, submit the translations to the srt team (Yay for Globe!!, btw.) and be able to set a date for our first "Couch Thread date" (More on that you will find below. Ami how can you refer to something which I haven't explained yet? Pff ;)/ I can read you,btw,*cough* / This is me testing if you really proof read once again. I'm kidding! Of course I know you can read it :) ). We'd love to watch Jemma with all of you, from the very beginning in that thread!(of course you're more than welcome to create your own subthreads to do just the same with your pals over there) It's been a tradition on the German forum, which has been bunches of fun! Since the DVD Box 3 set will take some time to reach all of you, and we have different time zones to cover, we'd plan on starting the couch experience mid November, would that work out for all of you?
And when we're all through, translating up through ep 90,we'd take up from where we left off with the Jenny free episodes, and continue on from there, til the fourth box set is released, and basically bounce back and forth in between sets. 
Because:
Let's watch it together!
On the board we created a thread in which we plan to watch the episodes from 73 on with you together when the new DVD Box is out and make it open to discuss them with everybody. To follow that discussion (in the future) go here -> Couch Thread
DVD Box 3 - Jeeeennnyyy!!
Some of us have been a bit anxious, when Sat1 announced, that they would stop releasing "Anna und die Liebe" DVDs.
"What about Hand aufs Herz"?No Jenny?
Oh noes..so we did not only breathe a big sigh of relief when the release of the third DVD box was announced officially for the 28th of October but..
The day it was made available for preorder on amazon.de, the 3rd Hand aufs Herz DVD Box hopped onto DVD sales rank number 112.
With no commercials or official announcement or anything.
Now, let me put it this way: :-D
I really can't wait to start watching them from the very beginning with you guys, and to fall in love all over again.
And I can't wait for you to see, for example, the eps of the accident, that got lost in between the sat1 clips and the cancellation of the yt channels.
Now, speaking of.. we are not dumb people.
Not blind either.
And whenever we've been trying to act dumb and blind, someone or other has been tweeting us links.
Now, I don't know if you're aware of this, but we are a limited number of people.
A highly motivated number that is.
However, the thing with the older eps has also been, that there have been a few times, that we've been putting our fingers into our ears and been going"Lalalalalalaaaaa.."
And some times  none of this has helped..
Now, we promised to translate the older eps, the old eps and what not, and I know, I KNOW, that there are so many of you who are grateful (And fun!) and nice people,
But sometimes, when you've run on four to five hours of sleep a night for weeks,your motivation flies out of the window, and you just need to shut your eyes for real.
Therefore,I would like to genuinely  apologize for not delivering on the promised translations, since I know what it's like not to be able to understand and to watch and to wait.
When I'm saying, that I, for example, can't wait to see Jenny again, that's what I mean.I don't care if it's twenty or twohundred people reading those translations, and sitting down on their couch and gushing over her hand sewn leggings with me, I don't.
And what if it's two! 
Who cares? It's Jenny effin Hartmann, falling in love with shy and queasy Emma Müller!
Now, that said, I don't know, how or when to say this, since it is never the time nor place, but to make it clear:Those people who have uploaded illegal clips before the show ended, while we were fighting our uh, places to sit off to save it,btw,  and who thanked us for our translations: We did not offer them or give them willingly.
We have offered them up twice, and in both instances, our offers were declined.
Now, as to the clips which float around these days, I seriously have no opinion.
Jemma should be a world marvel, and everybody should be able to watch it,regardless of language and financial income, however, I have an  inkling, that the DVD sales have not been immaterial in getting that webseries off the ground.
So, I will only keep with thanking you.
I would like to honestly, uprighteously and sincerely thank every single one of you.
Every single one who has been struggling with a transcript and ploughed through the official site and upped the viewership to 200 000 and every one of you, who has bought a DVD and had the faith in us, that we'd translate it (I do feel terrible, but just give us some time..)
Now, I have no clue whether this webseries will be worth it, whether it will feature Jemma or not, but at least I don't want to cry into my coffee anymore whenever a STAG song comes on, so thanks;-)
And did I mention Box 3? Jenny effin Hartmann!
I love you guys, you've brightened my days these past few months!
xoxo
AudL - Recaps
Beside the new AudL area in our Forum, there's something else new for AudL.
Ami herself is writing you recaps in her usual hilarious way! Go ahead and check the first one out here: AudL Recap 1
And you can look forward to more!
Hahe Interview/Survey
Now, you know how sometimes things just happen in life, and then you just have to accept them and fly with them?
The very thing happened to a charming young Lady, not unfar from Cologne, who chose to Choose the fan brouhaha around Jemma for her Ph.D. thesis.
Let's give her all the help we can, in pursuing the noble effort of becoming a Dr.Jemma,specialized in Fans.
1.You can fill out the qestionnaire here
2.or/and answer an interview, via phone or skype.Contact her under this emailaddress.
Damn, writing your thesis on Jemma....imagine the possibilities!
"Sorry, Boss, I need some extra vacation time for my thesis..Mom? I can't talk right now..I'm in the library.."
Absolute effin win!
---
This might have been a bit short on some explanations and stuff, but we hope you got the gist, since we meant to put these news out there a few weeks ago already! But you know how RL takes over ones life sometimes, hm? ;)
So if there are any questions left, go ahead and ask us in the comments!