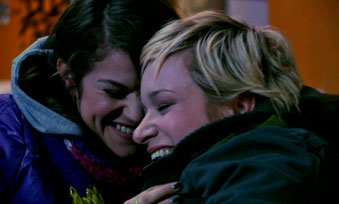 In freakishly good news Sat1 has decided to stream the full Hand aufs Herz episodes ungeoblocked online starting this Monday, the 6th of August 2012.
What does this mean for the hardcore old time Hand aufs Herz fans amongst us?
You get to see the whole Pestalozzi Crew's story unfold from the very beginning (also, you get to see the Beach Volleyball Team in a lot of underdressed action.A lot. Also:The super cool musical numbers.)
For those aching with Jemmawithdrawal, you'll be able to relive Jenny's descent upon Cologne and fall along in love with our girls all over again.
But what this means even more is this:
All those out there, with a halfway decent internet connection will be able to watch Jenny's and Emma's little tale unfold in their own sweet time.
Now speaking of everyone, during the uhm,hiatus, we've been going back to Hahe's beginnings and started translating the earlier Episodes and the ones from before they were ungeoblocked last year.A few are still missing.
However, with the release of one new episode per day online, we're ponying up and are pushing to fill in the gaps between episodes 30 and 72 so you'll have them handy when the episodes air.
This site will be slightly restructured to make navigation for the streaming easier, with direct links to the episodes and the SRTs.
In the meantime, you can find the SRTs here.
Now for those of you unfamiliar with the concept of a SRT:
It's a file format,that is meant to be fed into a player and will allow you to watch the episode with actual subtitles.
And this is how it works:
How to use it:
- Download the Srt file and remember where you put it! ;)
- Download the Microsoft.Net Framework 4 and  the Greenfishplayer which is a subtitle player for windows, (Srt Viewer for Mac), which can play srts along a video which is playing in a different window. The specialty of it is the simpleness of synchronizing the srt file to the video.

- If you have problems to get it to work you can follow the instructions of jennyandemma1 here.
(Thanks J&E1 girls for finding and introducing us all to this stroke of genius :) )
Early Hahe Eps
The early Episodes will be available in German (de) and English (EN)and the first few are even available in italian (IT)! So for example you will go to Episode one 'here', download the srt, stream the ep on your pc and let the Greenfishplayer run above it.
For a more detailed description check out our short 'How To SRT with the DVDs Guide', where you can also find the srt files zipped up in packages (though you should note that the SRTs in the packages are including old SRT versions of the english Subs. Our Foxy-SRT Team is re-editing the early english subs to make them absolutely perfect and correct any timing errors that happened when they were still a bit more 'noobish' on the subject ;) )
Everyone say 'Thank you' to Globe and Team for her awesome work on the srts!
 Of course there'll always also be the transcripts available to print out and read along, if that's more your style.
Now, to business:
You can find the Stream and the brand new Hand aufs Herz site here:

(You can totally while away your weekend by looking at the pictures of the characters and actors (Jemma is taking up a conspiciously large part on the new site)
And now,last but not least, from "Hand aufs Herz" FB:

"Beginning Monday, the 6th of August 2012, you'll be able to watch "Hand aufs Herz" again, beginning with Episode 1 on sat1.de - free of charge,of course!
It starts Monday with the first five episodes.Starting 6:30
pm (CET)there'll be a new episode available Monday thru Friday!

P.S.: To all JEMMA-Fans: The episodes are ungeoblocked! :)"
In more news:
To make the flow of information a little easier in the future, we're hoping, that Hand aufs Herz will get themselves a twitter account,*hint,hint* in the meantime, you can find all the relevant and fun info surrounding Hahe and Jemma and the actors and events,and whatnots that  we can get our hands on, over our spitting new twitteraacount: 
@TJIorg
Now, remember, Monday (Montag), the sixth,right?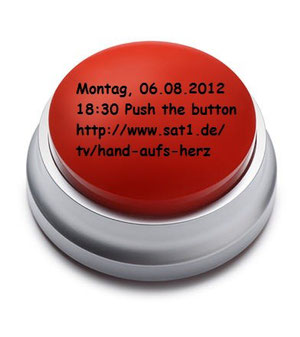 To end this on a personal note:
We are so excited!!!!!!
Your Team JI