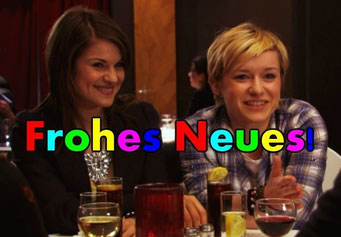 Welcome in 2015!
Look at this - three years later and we're all still here! :)
And just in time for the new year, we have a few words and a letter sparkling with inspiration for you!
Willkommen in 2015!
Na schaut euch das an - drei Jahre später und wir sind immer noch alle hier! :)
Und pünktlich zum neuen Jahr gibt es ein paar Worte und einen Brief voller Inspiration für euch!
Everyone Does Their Part
2014. "No game, no sport, and no science either!", as well as "What's your damn problem with me?" - "That's my problem with you!"  made it on the top of your Quote-Charts, a few of you got lost in Rocky's Timewarp or followed the sweet sound of Amazing Grace, we finished our translator- and subtitle-duties, and at last all of us enjoyed the golden tradition of the Advent Calendar.
So: no Hahe = no Jemma? Don't be silly!
After all Jemma is everywhere and everyone can do it - or at least that's how we think the following letter can be interpreted, which we received in our mailbox not long ago - you know that thing called mail? Once in a while you get mail, and then things happen that just happen ... and then ... - you will see :)
Hello,
So I just opened the Advent Calendar and have to say that you astonish me time and time again…not many people do! ;-) You're giving away the bracelets just like that? Why? (I'm completely amazed right now that people give away things just like that!) 
Of course I would love to get a bracelet, too, but I'm really writing this email out of astonishment and because I'm feeling the need to give feedback.
I followed HaHe from the time Lucy came on (yes, musical fan ;) ) and from that moment on this show had a major impact on me. Or more like Jemma had a major impact on me. When I realized that Jenny was gay I was totally confused at first. I had never been confronted with the topic of homosexuality before and so my first thought was: "Oh god! But she doesn't look like a lesbian!" Let me note that I was 12 years old at that time.

Well… but that was only the beginning of the two of them. And the more trials and tribulations they went through, the more I liked seeing the two of them together - and suddenly I was a Jemma fan. This led me to look into the formerly unknown subject of homosexuality.  At the beginning it was easy - before I knew Jemma I wasn't really aware of gay people, now I knew that that they were normal people and that homosexuality was just one of the permutations of love. But while it now was completely normal for me and I didn't associate it with words like "abnormal", my classmates saw it exactly the other way around. And so I regularly began fighting with them in class about whether or not gay people should have the same marriage rights etc. as straight people. But what made me unpopular with many served a good cause: discussions in our Politics class suddenly confronted everyone with the topic. And so, the issue got suddenly broached in Biology, it got debated in German class... And all teachers told the students that homosexuality was something completely normal. And that in a Christian school!
So while I was educating my friends, I got educated by the show, but also very much by your website. Because at some point I did start wondering if I might possibly be gay myself. What puzzled me was that I didn't really have an answer to this question, but that wasn't really that important to me. Because JemmaInternational and all the other blogs that I encountered thanks to you, were always whispering in my ear: no matter if you're gay or not - love will always be something beautiful. No matter if you're a woman who loves a woman or a man. However it will turn out - you're not alone. I've never found my way to join message boards or similar sites, because it just wasn't that important. And I still can't say today whether I'm really gay, bi or whatever. But I do know that there's a bunch of nice people out there who are, or have been, on a similar journey. People who, even though the show that started it all for me was cancelled years ago, continue to spend their time creating an Advent Calendar for people like me.
And for that I want to thank all of you. Because you give (I believe not just) me the strength, joy and motivation to stay Jemma. Thanks to you, Emma and Jenny won't be forgotten and thanks to you, more people will be feeling encouraged on their journey. And that's really, truly wonderful!
Thank you so much for all your work.
It's not in vain.
With kind regards,
Clara
Thanks again for your lovely Mail, Clara, for the part you are doing in this world, and thanks again for allowing us to publish your words here!

We are positive that everyone can do Good. It doesn't have to be an outing-on-the-books, a charity concert in leather, or a strike with musical number. But everyone has the chance to affect somebody - to move something - in their world, and we are glad if we could do that and proud if something wonderful like with Clara came out of it :)
We wish all of you a happy new year and we love to be (and have been) a part of your life!
And at last, like always, Stay Jemma!
Your JI.org Team
---

Jeder tut seinen Teil
2014. "Kein Spiel, kein Sport und auch keine Wissenschaft", so wie "Was ist verdammt noch mal dein Problem mit mir?" - "Das ist mein Problem mit dir!" haben es an die Spitze eurer Zitatecharts geschafft. Der ein oder andere hat sich bei der Rocky Horror Show im Timewarp fangen lassen oder wurde bereits vom sweeten Sound von Amazing Grace berieselt. Wir haben unsere Übersetzer- und Untertiteltätigkeiten abgeschlossen, und zuletzt haben wir uns alle über das goldene Finale des Jahres in Form der Adventskalendertradition gefreut.

Also: kein Hahe = kein Jemma? So ein Quatsch!

Jemma ist doch überall und das kann auch jeder! Nach diesem Motto, so denken wir, kann die folgende Nachricht gedeutet werden, die wir vor kurzem in unserem Briefkasten erhalten haben. Ihr wisst schon, Post halt. Manchmal da kriegt man halt Post, und dann passieren Sachen, die passieren einfach ... und dann … - ihr werdet sehen... :)
also ich habe gerade den Adventskalender geöffnet und muss sagen, dass ihr mich doch immer wieder erstaunt....schaffen nicht viele! ;-) Ihr verschenkt die Armbänder einfach so? Warum? (Ich bin im Moment wirklich wahnsinnig verblüfft darüber, dass Menschen einfach so etwas veschenken!)
Natürlich würde ich selbst auch wahnsinnig gerne ein Bändchen haben, aber eigentlich schreibe ich diese Mail aus Verwunderung und weil ich im Moment das Bedürfnis verspüre mich einmal zu melden.
Ich habe HaHe ab Lucy's Einstieg verfolgt (ja, Musical-Fan ;) ) und ab da hat mich diese Serie stark beeinflusst. Besser Jemma hat mich stark beeinflusst. Als mir dann bewusst wurde, dass Jenny lesbisch war, da war ich erstmal völlig confused. Ich bin vorher niemals mit dem Thema Homosexualität konfrontiert worden und so war mein erster Gedanke "Oh Gott! Die sieht aber gar nicht aus wie eine Lesbe!". Dazu sei angemerkt, dass ich damals 12 Jahre alt war.

Tja...aber das war erst der Beginn der Beiden. Und je mehr sie in Irrungen und Wirrungen gerieten, desto lieber sah ich die beiden zusammen - und war auf einmal Jemma-Fan.
Daraus folgte auch, dass ich mich mit dem vorher unbekannten Thema Homosexualität auseinander setzte. Zu Beginn war es leicht - Bevor ich Jemma kannte, waren Homosexuelle überhaupt nicht in meiner Wahrnehmung, nun wusste ich, dass es ganz normale Menschen waren und dass Homosexualtität nur eine Spielweise der Liebe ist. Was für mich nun völlig normal war und nicht Begriffe wie "unnormal" o.ä. auf den Plan rief, war für meine Mitschüler allerdings genau andersrum. Und so begann ich mich regelmäßig im Unterricht mit ihnen darum zu prügeln, ob Homos die gleichen Eherechte etc. wie Heteros haben sollten. Was mich bei vielen unbeliebt machte, hatte einen guten Zweck: durch Diskussionen, die im Politikunterricht entstanden, wurden auf einmal alle damit konfrontiert. Und so wurde es entgegen dem normalen Ablauf auf einmal im Bio-Unterricht angesprochen, in Deutsch wurde darüber debattiert,... Und sämtliche Lehrer erklärten den Schülern, dass Homosexualität etwas völlig normales ist. Und das auf einer christlichen Schule!
Während ich meine Freunde also aufklärte, wurde ich von der Sendung, aber auch sehr stark von Eurer Seite aufgeklärt. Denn irgendwann kam sie dann doch; die Frage, ob ich vielleicht selbst lesbisch sein könnte. Was mich aber verwunderte: die Frage konnte ich nicht wirklich beantworten, aber das war mir auch nicht wichtig. Weil Jemma International und all die anderen Blogs, die ich auch dank Euch kennenlernte, mir immer wieder ins Ohr flüsterten: Egal, ob du lesbisch bist oder nicht - die Liebe bleibt etwas wunderschönes. Egal ob als Frau eine Frau oder einen Mann liebend. Wie es auch wird: Du bist damit nicht alleine. Ich habe nie meinen Weg in Chatforen o.ä. gefunden, weil es einfach nicht wichtig war. Und bis heute kann ich nicht sagen, ob ich wirklich lesbisch, bi oder sonstwas bin. Aber ich weiß, dass da draußen ein Haufen netter Menschen sind, die einen ähnlichen Weg beschreiten oder bereits beschritten haben. Menschen, die obwohl die Serie, mit der für mich alles begann, seit Jahren abgesetzt ist, weiterhin ihre Zeit damit verbringen, Menschen wie mir einen Internet-Adventskalender zu bescheren.
Und dafür möchte ich Euch allen Danke sagen. Weil ihr -ich glaube nicht nur mir- Kraft, Freude, und Motivation gebt, Jemma zu bleiben. Dank Euch werden Emma und Jenny nicht in Vergessenheit geraten und Dank Euch, werden sich noch mehr in ihrem Weg bestärkt fühlen. Und das ist wirklich, schrecklich, furchtbar schön!


Vielen Dank für all Eure Arbeit.
Nochmals danke für die liebe Mail, Clara! Für deinen Teil, den du in dieser Welt tust, und dafür, dass wir deine Worte hier veröffentlichen durften!

Wir sind fest in dem Glauben, dass jeder etwas Gutes tun kann. Das muss kein Bücherouting, kein Benefizkonzert, und auch kein Bunter- (wegen Alliteration und so ;D ) Streik sein. Aber jeder hat die Möglichkeit etwas in seiner Welt zu bewirken. Und wir sind mächtig froh darüber, wenn wir das tun konnten. Und wir sind stolz, wenn dabei etwas Tolles wie bei Clara rauskommt :)
Wir wünschen euch allen ein frohes Neues Jahr und freuen uns, ein Teil eures Leben (gewesen) zu sein!
Und zuletzt, wie immer, bleibt Jemma!

Euer JI.org Team